A Double Opportunity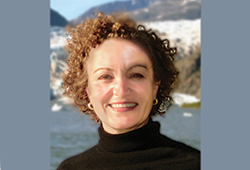 It started with salsa.
Cherí Ben-Iesau was attending First UMC of Baton Rouge one Sunday and purchased some of the Sizzlin' Tail Feathers salsa from the Louisiana Methodist Children's Home display in the gym. She struck up a conversation with Pete Prophit, who was manning the display. He explained how the proceeds from the salsa go to help with the programs at the home in Ruston and how many children it helps every year. The more Cherí heard, the more she wanted to help.
Cherí retired this year as a Commander in the U.S. Coast Guard after 25 years of service. She now enjoys participating in New Orleans art shows and selling salsa on Sundays at her church, Munholland UMC in Metairie. She also contributes homegrown habanero chili peppers, which are used to "heat up" the salsa.
But another way Cherí is helping the children's home has not yet come to fruition. Cherí has set up a charitable remainder unitrust, also referred to as a CRUT. It will benefit the children's home, as well as a few other favorite charities: Rails to Trails Conservancy, the Consumers Union and the United Methodist Foundation of Louisiana.
In the Coast Guard, Cherí moved around a lot and accumulated several rental properties. In 2010, she donated a rental house in Baton Rouge to the Foundation. The Foundation sold the home and used the proceeds to fund the trust. From the trust, Cherí receives an income for the rest of her life, and after her lifetime, the beneficiaries she chose will receive an income.
The benefits do not end there. She is avoiding property management fees, real estate taxes, insurance and maintenance costs, which ate into the rental income. She no longer has the responsibilities that come with owning that property, and she received a tax deduction the year she made the gift. Cherí is actually producing more income with the trust than she was by renting out the house.
Cherí was raised Methodist in northern California, and her grandfather was a Methodist missionary in Oregon. "The Methodist church is such a great church, so forward thinking, and I've always been drawn to the children's home for the work they do," Cherí said. "This gift was one small way to be a drop in the 'good' bucket."
"These are my favorite causes. Each one benefits people in general, and I just want to be a part of that and see them continue," Cherí added.
A charitable remainder unitrust has provided a double opportunity for Cherí- to increase her income and support her favorite charities at the same time.