"Well done, good and faithful servants." Matthew 25:21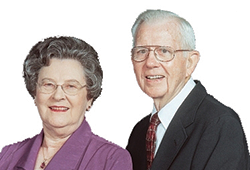 Married for more than 50 years, Mary and Bill Oglesby did everything together.
They loved their church, Broadmoor United Methodist Church of Baton Rouge, and served it faithfully for decades. Mary died in 2009 and Bill died three years later. But through their wills, together they left a bequest that allows them to continue supporting the church that was so meaningful to them.
The Oglesbys grew up in the church-Bill as a Baptist and Mary as a Methodist. Here they learned about tithing-giving the church at least ten percent of their blessings. Not only were they generous with their gifts, but they served the church in many ways.
One of their favorite ministries was Southeast Ministries Food Pantry. "Mama and Daddy worked at the food pantry as long as they were able," said their daughter, Ann Oglesby Ault of Houston. "Maybe that's from being children of the Depression, and him being in Europe during and after World War II. They didn't want anyone to go hungry."
In addition to their work with Southeast Ministries, they were members of the Fellowship Sunday School class at Broadmoor for almost 50 years, attended the 8:30 service every week, took communion to shut-ins, delivered first-time visitor bags and drove for Wheels of Care together.
Bill had often said he was blessed materially beyond his wildest expectations, and he felt a responsibility to share that. "We knew that they had structured their will so that Broadmoor got its slice right off the top," said Ann.
"Some might say he had a gruff exterior, but Daddy had a big heart. He would stop and offer to buy a meal for a person asking for money. He would take them inside, tell them to order what they wanted, and then sit with them while they ate."
Mary was probably the more social one of the two and spent a lot of time on church activities. She was involved in UMW for decades and a member of the Intercessory Prayer Team. Another example of her generosity was giving a kidney to her brother in 1992 that prolonged his life by eight or nine years.
Shirley Lloyd was the Oglesbys' long time friend and is a member of Broadmoor. She said, "Mary and Bill Oglesby were a prime example for us to follow. We learned by their example and thank God for their memory."
"I think they were definitely greeted in Heaven with 'Well done, good and faithful servants!'" their daughter Ann added.
Anything they did was a joint decision, and one of their final decisions was to tithe their estate to their church through a bequest in their wills-a prime example for the rest of us. Well done, indeed.