The Builder (CRUT)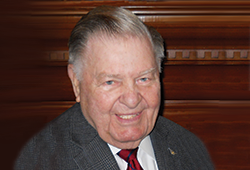 John Tyner of Baton Rouge, who passed away 2019 was the epitome of his generation-the builder generation. Like others in this age group born between 1925 and 1944, he was loyal and dependable, had a strong work ethic, and a deep commitment to church and family.
John showed these commendable traits in many ways, one of which is a planned gift he made to benefit his grandchildren and his church. John set up a Charitable Remainder Unitrust (CRUT), a gift that generates income for the donor's life, then to family or loved ones for up to 20 years, and ultimately supports a United Methodist church or ministry.
The Foundation manages the trust and during John's life, paid him a percentage of the corpus, which is valued annually. Now that he is deceased, his two grandchildren will receive the income for 20 years, and ultimately, his church, Broadmoor UMC of Baton Rouge will benefit in perpetuity.
To help the fund grow faster, John adds to it each year from the income it generated. Any added gifts are tax deductible, as was the initial gift. And, the Foundation establishes the trust at no cost.
John provided for his children in various other ways, so this gift was a way he could take care of his grandchildren after his death. John and his grandchildren had a close relationship, taking frequent fishing and hunting trips together.
Like many in this "greatest generation," John was a World War II veteran and well invested in his community. He worked in the insurance business he started in 1952, until he was nearly 90 years old. Throughout his career, he served as a leader in his industry state and local associations and the Baton Rouge Junior Chamber of Commerce. He also served on the Foundation Board of Trustees and "in every capacity at Broadmoor except treasurer," but he was most proud of the fact that he had served continuously as an usher since 1957."
In high school, he was a soda jerk and a curb hopper at a drug store in his home town of Tallulah, La. In 1944, at age 17, he joined the war effort and served in the U.S. Navy on the USS Ticonderoga, an aircraft carrier. After his military service he attended LSU in Baton Rouge, and he earned a business degree in 1950.
John and his wife Louise were married for 62 years, until she died in 2007. They have two children, Tatsy and Johnny. John created a legacy to support the family and church that he helped build through 57 years of service and commitment. The CRUT is the perfect estate planning tool that allowed him to do that.