Seizing the Opportunity: Turning a Liability into an Asset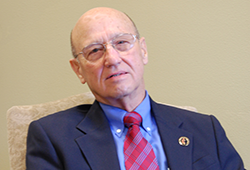 The late Dick Boisture believes in recognizing opportunities when they present themselves.
And sometimes an opportunity is one of giving, like when this Jennings native was able to donate a condo in Beaumont, Texas, to benefit his church.
Dick was retired from a successful career in manufacturing building components. Many years ago in a booming economy, he purchased a condo as an investment tool. When tax laws and a slumping oil economy made the situation unprofitable, he needed to dispose of it.
A longtime member of Jennings United Methodist Church, Dick realized the sale of the condo could serve as an opportunity to share his blessings with his beloved church.
He donated the condo to the United Methodist Foundation to fund a charitable gift annuity. "I didn't need the money from the sale of the condo, the gift annuity would give me income and I didn't want to pay capital gains tax," Dick explained.
With the gift annuity, Dick began receiving regular semi-annual checks that enhanced his retirement income. When Dick died in 2021, the annuity became a permanent fund that benefits the church.
Dick believed people must take care of the church now if they want it to exist in the future. "Jesus talked about money a lot in the Bible—it is an important part of faith."
In summing up his reason for giving, he said, "God has been so good to me, how could I look at money any other way? I don't think I could live with myself if I didn't recognize the opportunities for giving that present themselves."
Dick seized the consummate opportunity: he converted a liability into an asset, and at the same time created support for his church forever.