The Charitable Gift Annuity: A Great Approach to Giving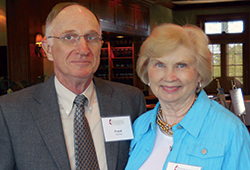 When the late Frank and Carol Carney first learned about charitable gift annuities in their Sunday School class years ago, a seed was planted.
They talked about making a gift for a number of years, and then when a second presentation was seen, they decided to act.
A gift annuity is a popular type of planned gift that simultaneously provides support for your church or favorite ministry, an income tax deduction and a guaranteed lifetime income stream. When the donor dies, the ministry they cared about so much in life receives income from the gift in perpetuity, allowing them to support that cause forever.
When establishing a charitable gift annuity through your United Methodist Foundation of Louisiana, there is no charge for the set up or legal paperwork.
The charitable gift annuity allowed the Carneys to provide an income for themselves and make a gift to their church, University United Methodist Church of Baton Rouge, at the same time. They liked this approach so much, they established another charitable gift annuity a few years later.
The first gift annuity they established is benefiting their church; the second one is for the benefit of Frank?s alma mater, Millsaps College in Jackson, Mississippi, which is a United Methodist institution.
Frank and Carol retired from LSU on the same day in 2000. Frank was Director of Career Services and Carol was Assistant Dean of the College of Engineering. They loved retirement, focusing mainly on volunteer work and travel.
The Carneys combined volunteer work with travel by running their church's travel group for many years. They also worked with the American Red Cross as team captains for fire calls-meaning when a fire destroys a family's home, they are called out, sometimes in the middle of the night, to provide accommodations, clothing and food to victims of fire. Frank and Carol were also mentors with HOPE Ministries, working with clients who need help getting back on their feet, sometimes from homelessness. Frank continues to serve, although he lost Carol in 2015.
In 2009, Frank was recognized as Retired State Employees Association of Louisiana's Chapter Member of the Year for his service to retirees and the community. He teaches and assists people with tax preparation through AARP and chauffeurs those without transportation to medical appointments through Interfaith Caregivers.
When asked why the gift annuity, Frank says it's nothing unusual, they just think it's important to help the institutions they have been part of and from which they have received so much. "We want them to function and operate into the future," Frank said.
"My image was that you had to make a huge amount of income to make these kinds of gifts. But if we can do this as retired LSU employees, there are a lot of other people who can do this. And we want to keep adding to it, he added."