Bequests: Teach Your Children Well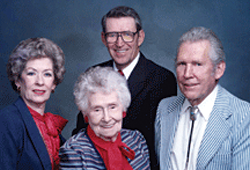 You who are on the road
Must have a code that you must live by
And so, become yourself,
Because the past is just a goodbye.
Teach your children well.
--Crosby, Stills & Nash
When the late Ola Spencer Wren wrote her will in 1991, she knew she wanted to provide for her family and her church.
What she didn't know was that she was passing on to her children a legacy of generosity toward United Methodist ministries.
Ola and her husband, Marcus Wren Sr., raised their children in the Methodist tradition, attending the country church in Pine Grove most of their lives and later transferring their membership to First United Methodist Church in Minden.
Marcus Sr. died in 1953 and Ola lived another 40 years in Minden. In her will, she remembered her church, the United Methodist Women and the United Methodist Foundation of Louisiana. She also made specific bequeaths to her children-Spencer, Marcus Jr., and Marcia-and expressed a written desire that they give gifts to charities of their choice.
As they fulfilled their mother's wishes, each chose Methodist organizations as their preferred "charity". Here is the story of each of Ola's legacies:
Legacy #1-Spencer
The late Spencer Wren experienced a wartime calling to the ministry while a bombardier over Japan in World War II. When he returned home, Spencer earned the necessary degrees and served as a minister in the Louisiana Annual Conference for over 19 years.
Following in his mother's footsteps, Spencer established a Charitable Remainder Trust through the United Methodist Foundation. Spencer received an income stream from the trust, and when he died, the trust began providing for his children.
The trust will ultimately provide annual scholarships in Spencer's name to students at his alma mater, Centenary College in Shreveport.
Legacy #2-Marcus Jr.
Marcus Jr. is retired and still lives on the family property. Marcus and his late wife Gay donated timber from land given to him by his parents to fund a Charitable Remainder Trust and later a Charitable Gift Annuity through the United Methodist Foundation. They received an immediate current income tax deduction and a lifetime income stream.
After both of their lifetimes, the ministries of the Methodist Children's Home in Ruston, First United Methodist Church of Minden, and the Foundation will be supported.
Legacy #3-Marcia
The late Marcia Wren Gater was an active member of First United Methodist Church in Minden, and was involved in United Methodist Women.
Her brothers' gifts inspired her to create a trust through the United Methodist Foundation, and she named her church and the United Methodist Council on Relief (UMCOR) as the two beneficiaries. Marcia chose UMCOR because she appreciated the relief it provides to those recovering from disasters. Now, because of the trust she created, she continues support her church and UMCOR after her lifetime.
Do you ever wonder if your children pay attention? The Wren children did, and many United Methodist ministries will benefit from their generosity. Ola and Marcus Sr. passed on the spirit of generosity and the joy of giving. They taught their children well.
You also may want to make it easy and convenient to have a bequest included in your will. The language link below shows how a bequest can very easily be included in your will.
You might find it helpful to print this page and the bequest language. Please feel free to give this information to your attorney. If he or she has any questions, please have them contact us at 225-346-1535 or
click here
to email us.
---
Click Here to review sample bequest language.