Gift Annuities: Being There For Her Church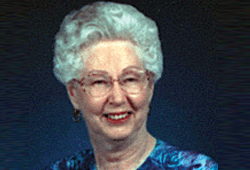 Joyce Hannibal of Lafayette, Louisiana, was a loyal Methodist all of her life. Joyce has now passed on, but here is the story of the legacy she left behind:
Joyce was a member of Asbury United Methodist Church. She was actively involved in the Challengers Sunday School Class and served as president and substitute teacher. As a devout Christian, she made prayer a part of her everyday life.
As Joyce got older, she began to think about how she would handle her investments. Unfortunately, interest rates had fallen and she was concerned about how to preserve her income stream. One of the financial institutions she talked to would offer only 1.7 percent on a CD. As Joyce put it, "I'd just as soon put my money under a mattress than earn 1.7 percent."
Joyce began to pray about her situation, and asked for guidance on her financial matters.
Coincidentally, or perhaps by God's will, a member of Asbury's Finance Committee contacted Joyce, telling her of an upcoming meeting with the United Methodist Foundation. She later attended the meeting, where she learned about gift annuities and the benefits they provide. She felt like this might be the answer to her prayers—she had been investigating ways to increase her income, and the church was already in her will.
After learning that her charitable gift would entitle her to tax deductions and an ongoing stream of payments, Joyce said, "I think if anyone is considering leaving anything to the church, why not do this and enjoy the income?"
And Joyce is right. A gift annuity can provide its donor with a very attractive fixed payments for life. For example, seniors might secure a fixed rate of eight percent, nine percent or even higher. The combination of partially tax free payments and the initial charitable income tax deduction made the idea of a gift annuity quite appealing. Not only did Joyce discover a way to increase her cash flow, she also ensured that after her lifetime she would continue to support her favorite charitable organization, Asbury United Methodist Church.
As Joyce used to say, "Through faith He is going to take care of me, and He will be there." And through Joyce's faith, she is there for her church, even after life.