A Bequest for the Children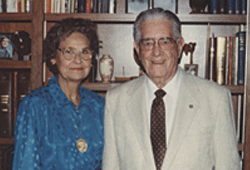 A hundred years from now it will not matter what my bank account was, the sort of house I lived in, or the kind of car I drove...but the world may be different because I was important in the life of a child.
-Forest E. Witcraft
American scholar, teacher and scout leader, 1894-1967
To say that Margaret and Frank Hunter loved children is an understatement. In every facet of their lives, they devoted their time, energy and financial resources to children in some fashion.
The Hunters were married and settled in Abbeville, just before Frank left for active duty in World War II. They built their home, raised two children, and lived there among their friends until their deaths.
The Hunters were committed to many organizations supporting children. Margaret was a leader in the community, as well as the Abbeville United Methodist Church, where she was a decades-long Sunday School and Bible School teacher. Many claim she was the driving force behind the church's annual Christmas nativity play.
Frank led a very service-oriented life also, and was a remarkable leader in his church and community. Frank died in 1999, and Margaret three years later. As their children, Bob and Barbara, were sorting Margaret's belongings, Bob found a torn piece of paper about the size of an index card. On it was a scribbled note from Margaret. It said, "If you have any money left over, I want to leave the children of the Methodist Church some money so they will always be able to have costumes for the Nativity."
Upon the discovery of this "bequest," Bob and Barbara set up an endowment through the United Methodist Foundation of Louisiana. It became a legacy for their parents' love of children, which now will live forever throughout the halls of the Abbeville United Methodist Church.
You also may want to make it easy and convenient to have a bequest included in your will. The language link below shows how a bequest can very easily be included in your will.
You might find it helpful to print this page and the bequest language. Please feel free to give this information to your attorney. If he or she has any questions, please have them contact us at 225-346-1535 or
click here
to email us.
---
Click Here to review sample bequest language.