Bequests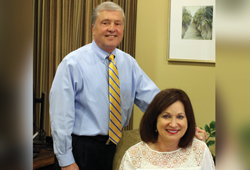 A Legacy of Generosity
For Rob and Pam Fairly, life revolves around family, church, and helping others. Rob is retired after serving nearly two decades as president of the United Methodist Foundation of Louisiana, and his wife Pam is a retired speech pathologist and community volunteer.
Four generations of Fairlys have worshipped at First United Methodist Church of Baton Rouge, and the family has served in numerous capacities of church leadership and service there.
With his background in finance, Rob is keenly aware of the importance of an estate plan. "Without a will, settling an estate may be costly to your heirs, state law will decide how your assets are distributed, and there would be no provision for the charities or ministries you love," he said.
As Rob and Pam created their estate plan, their primary goals were to provide for their faith, their family, and other charities that are meaningful to them. "Having a plan gives you more control of the assets you've accumulated throughout life, and insures that your wishes will be carried out," said Rob.
The Fairlys feel they were blessed with families that taught them the importance of generosity. It has been their intention to teach this philosophy to their children, Jennifer, Susannah and Tripp. It also guided their estate planning.
Their wills provide for each other first. After their lifetimes, the plan will divide the remaining assets into four equal parts. One fourth of the estate will be placed in a Charitable Trust for the benefit of their favorite ministries and charities: United Methodist Foundation of Louisiana, their church, and a few other causes that are important to them. The remaining three quarters will be given equally to their three children. The charitable donations will be funded first from retirement plan assets to minimize tax to the children.
"God first, with our children being a close second- the Bible teaches us to love God and love others, and that's the message we want to leave behind," said Rob.
The United Methodist Foundation is the trustee of the Charitable Trust and will be responsible for distributing the contributions to the appropriate beneficiaries in perpetuity. This means that the assets will go into a permanent fund, and income from the fund will pay the charities forever.
"A good estate plan can allow you to continue to provide for the people and ministries you cherish now. Not only are you providing for them financially, but you are simultaneously leaving a legacy of generosity," Rob added.