A Simple and Practical Way to Give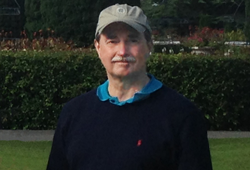 "Making a gift from an insurance policy is simple, and you don't miss the money because you wouldn't get it until you die." These are the words of banker Omer Davis, a self-professed, ultra-practical person.
Omer is Executive Vice President of Whitney Bank in Baton Rouge and spends the majority of his "off" time working for the church in various capacities. He jokingly says, "I also work for the Methodist church, they just don't pay me." He also enjoys golfing when time allows.
He and his wife Marybeth have been members of First United Methodist Church of Baton Rouge for 36 years. They raised their family there, and Omer serves on the Staff Parish Relations Committee there. He is Chairman of the Board of Pensions for the Louisiana Conference and is a former board member of HOPE Ministries.
Omer is currently a member of the Board of Trustees of the United Methodist Foundation of Louisiana with several years of service, including time on the Executive Committee and as Chair of the Investments Committee.
While reviewing his insurance coverage ten years ago, Omer decided to give a whole life policy as a charitable gift for the benefit of his church and the Foundation.
He says, "It was really easy to transfer. All I've done is sign a change of beneficiary form with the insurance company, listed the church and foundation as the beneficiaries, and filed a one page memo with the Foundation to define how the gift will be managed and distributed."
Omer and Marybeth's two children are each settled in careers and living out of state. The insurance policy he gave was one that was no longer necessary.
He continues to pay the premium each year, and the cash value of the policy will continue to grow during Omer's lifetime. At the end of his life, his church and the Foundation will benefit, while assets earmarked for the family remain intact.
"It's a painless, easy way to give. No attorneys necessary, no tax advice,"
he added.
If you like simplicity, consider making a gift of life insurance. You can spend dimes to give dollars and support your favorite ministry.