Giving and Receiving: Charitable Gift Annuities are a "Win-Win"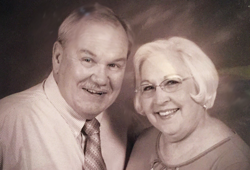 "We are all called to give, and when we do, so much comes back to us." These are the words of Judy Turnley, formerly of St. Andrews United Methodist Church in Sterlington, who with her husband Reverend Richard Turnley, has set up two charitable gift annuities with the Foundation.
A charitable gift annuity is a good example of giving and receiving. With this type of gift, donors receive income for life, and when their lives end, the ministry they designate benefits forever.
The Turnleys were considering their gift options when Bob Carrell of the Foundation happened by Richard's office for a visit. The Turnleys liked the idea of the charitable gift annuity, where they would make the gift, receive lifetime income, and ultimately support their favorite ministries.
"The first gift annuity was really just a God thing," Judy explained, regarding the timing and coincidence of Bob's visit.
"A charitable gift annuity just seemed the thing to do. We will continue to do annuities whenever we have the money," stated Judy. True to their word, the Turnleys set up their second gift annuity a year or so later.
"We are not wealthy- we are just middle class people, but once we're gone we want to have a lasting legacy to pass on, that helps others," Judy said. "Our family is fine, but a lot of people in our world are not going to be fine without some help."
"A charitable gift annuity is a wonderful opportunity for people- it's really a 'win-win' situation," Judy claimed.