Charitable Gift Annuities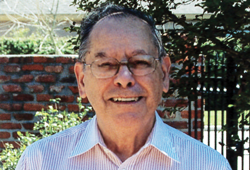 Mission at Work
Years ago in a small town in Mexico, a newly widowed mother was turned down by her own church when she needed a job to support herself and her daughter. Not knowing where to turn, she took her church's suggestion and contacted the Methodist mission down the street. The Methodist mission gave her a job that helped her back on her feet and began a positive cycle for her family.
The job allowed this young widow to educate her daughter Juanita, who later became a teacher. Juanita then moved to the United States, got married and had a son. Her son is Henry Ramos, now a 92-year-old member of Broadmoor UMC in Baton Rouge, who established a Charitable Gift Annuity that ultimately will support the United Methodist Church in perpetuity.
Hearing repeatedly about the support his grandmother received from the Methodist mission so long ago forged a strong connection between Henry and the United Methodist Church. Henry is using the Charitable Gift Annuity to give back, but what Henry may not have known at first was that the gift annuity would also give back to him.
Henry, a retired industrial hygienist, and his late wife Lupe, learned about gift annuities when a member of the Foundation staff came to Broadmoor to preach on stewardship. Henry and Lupe then worked with the Foundation to finalize their gift and loved the "win-win" situation the gift annuity provided.
It allowed them to receive a current tax deduction and gave them lifelong "locked-in" payments. The Foundation absorbed all the costs involved in establishing the gift annuity, and after both of their lifetimes, Henry and Lupe's generosity will support the United Methodist Church forever.
"People think you're rich if you do something like this," Henry commented, "but we're not rich. We just think it's a good thing. We're still getting a fixed payment right now, even with the market fluctuating." Henry thinks anyone can do this if they just focus on it. He says, "If you combine grains of sand, you'll soon have a brick. Pretty soon, you can build a house."
Ask Henry why he set up a Charitable Gift Annuity and his smile widens. "It's the mission work," he says. "Because of my family's story, I have strong feelings for the work of the church."