Put Your Money to Work Now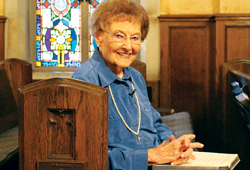 For over 70 years, the late Virginia Worley received love, friendships, great Bible studies and more from her church, First United Methodist of Baton Rouge.
She and her late husband Gene had always given to the church through their time, talent and treasure, and Virginia included the church in her will. But after Gene died in 2011, Virginia decided to put her money to work a little sooner than originally planned, by using a charitable gift annuity.
With a charitable gift annuity, the United Methodist Foundation of Louisiana made payments to Virginia- for life. The rate is fixed at the time of funding, which means the payment amount never changes, regardless of what the economy does. The gift annuity also provides an income tax deduction at the time the gift is made.
"I thought it over, prayed about it and then talked to the Foundation. I felt it was the right thing to do, and I never regretted it," claimed Virginia.
The charitable gift annuity allowed Virginia to give back to the church, receive some income and it's largely tax-free. "I am receiving 8.5%, and I don't know anywhere you can get that kind of return on your money," she said.
Most of all, Virginia loved the feeling she got from giving. "Making this gift gave me a sense of accomplishment, benefiting the church and myself. It thrills my soul to think that I'm able to do this."
So thrilling, that she established a second gift annuity, which locked in a 9% rate of return. This rate is set by the American Council on Gift Annuities and increases with age.
Virginia designated the music department of her church as the income beneficiary of both annuities.
"I wanted it to be kind of a memorial, because Gene and I met there. I sang in and taught choir for so many years. I feel very close to the music department and it continues to be a wonderful part of the church."
Virginia says, "The Foundation made it clear and simple, and I felt comfortable with the way it was handled."