Marianne Hebert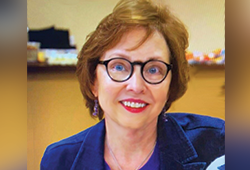 While planning her retirement, Marianne Hebert discovered a way to increase her income while supporting a ministry that has been vital to her faith.
Marianne sensed a call from God urging her to seek a deeper understanding of her faith years ago. She learned of a spiritual formation program, which gave her a community of people with common interests who she can share her faith with and learn to practice the daily disciplines of spiritual formation.
Spiritual formation is a process that sharpens one's attentiveness to God, and helps people draw nearer to Him and focus less on self. The Charitable Gift Annuity that Marianne recently set up is indicative of how her life has been transformed by her spiritual formation journey.
Marianne retired this year after 42 years as a social worker. While planning her retirement, she learned about charitable gift annuities that the Foundation offers. When our staff explained the details, Marianne knew it was the perfect way to increase her retirement income while making an everlasting gift.
Marianne wanted her gift to benefit the spiritual formation program at her church. The program sponsors retreats and provides resources to those who seek a deeper understanding of their faith, and her gift will help with that after her lifetime.
"Anyone can use a Charitable Gift Annuity to support ministries that are important to them, and the gift will continue to support their favorite ministry forever. I like the fact that it's not just a one-time gift; it continues to give," she explained.
When asked why she gifted her money instead of spending it on herself, Marianne claimed, "I'm just in a different place spiritually, which is due to my spiritual formation journey. My life is deeper and my relationship with God is stronger. The Charitable Gift Annuity appealed to me because I can give forever."
The benefits of Marianne's gift:
• Provides an income stream for the rest of her life, a portion of which may be tax-free
• She receives an immediate tax deduction this year
• It reduces or eliminates her capital gains tax liability
• Gives her the ability to support spiritual formation at her church after her lifetime, forever.