A Double Blessing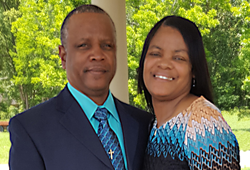 Years ago, Dusty Clark was on his way to work when a dump truck ran a red light, collided into him and changed his life forever. After the accident, doctors told him he was lucky to be alive and may never work again.
He and his wife Skipper didn't know how they would make ends meet financially. "Except for the Lord," Dusty explained, "He made a way."
Friends and family helped them out here and there until a call came from their insurance company. A settlement check was coming.
The Clarks knew they wanted to tithe the money to their church, so they called their pastor, who recommended they talk to the folks at the United Methodist Foundation of Louisiana.
Since the money was meant to help provide for Dusty and his family, the United Methodist Foundation showed them how to make a gift that would provide income to them, as well as help their church. The Clarks set up a charitable gift annuity, which will provide a lifetime of payments from the Foundation, and afterward will support their church, Roberts UMC, forever.
"We were not looking for income for ourselves. The fact that we receive payments for life makes this a double blessing," Dusty said.