Creating a Family Culture of Generosity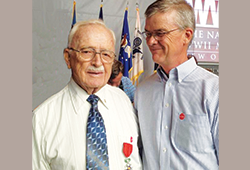 "Train up a child in the way he should go: and even when he is old, he will not depart from it."
This scripture from Proverbs tells us that teaching our children God's ways will provide them with a firm foundation to which they can always return. Without question, this was the philosophy of the Rev. Bob Deich's late father, Robert V. Deich.
Robert's primary life focus was God and church, which made him an exceptional role model for his son. Bob has followed that example, now serving as senior pastor at Grace United Methodist Church in Ruston and as the Louisiana Conference Early Response Team coordinator and chairman of the Louisiana Disaster Relief Team.
The senior Deich died in 2016, but he will support the church forever because of a memorial endowment that Bob set up at the United Methodist Foundation of La.
Income from the fund benefits the church where Robert spent his last year as a working pastor.
Robert was nearly 90 years old when he moved to Ruston to be near Bob. "Grace took my dad in as a new member of the church like he had been there his whole life," said Bob, "and for that I am grateful."
Both of Bob's grandfathers were Methodist ministers, who created a culture of generosity within the family. Bob grew up at First UMC of New Orleans (now First Grace UMC), where his dad showed him how to give and explained how the church used the gifts.
Every Sunday, the young Bob would put a nickel and a quarter in the pew envelope. "This didn't mean much in the grand scheme of things, but to a third-grader, it meant something," explained Bob.
Robert devoted one day per week serving in some capacity at First UMC of New Orleans, sang in the choir and taught Sunday School. The church was a central part of his life, so it is fitting that this endowment will support church ministry.
"The apple did not fall far from the tree," Bob says humbly; "I just had a good role model and have followed the example I was given."