Your Life Matters: Build Your Legacy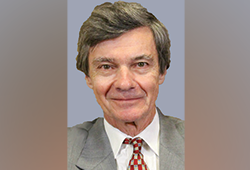 Mike Dehart knows what he wants his legacy to be and he has started building it.
He's a vibrant member of the Church of the Covenant and Chairman of the United Methodist Foundation's Investment Committee, and he has created an endowment to leave a legacy for each of these cherished ministries.
Mike is passionate about his church and foundation work and is serious about serving them. He wants to see them flourish, even after he's gone. He is humble, but others will tell you how devoted he is.
"Mike has always been an integral part of the financial program of Covenant, where he uses his God-given talent and financial skills to enrich the ministry of the church," says Rev. Chris Blanchard, retired pastor of Covenant United Methodist Church in Lafayette. "Without his excellent leadership as Chair of our Construction Committee, the new multi-purpose facility may not have been completed," he added.
With that kind of commitment, it's no wonder that the church and the foundation are the beneficiaries of both his endowment and bequests in his will.
As a CPA, Mike recommends that anyone leaving a sizeable gift should endow the gift, allowing it to give in perpetuity. And he practices what he preaches.
"My plan was to start the endowment with a modest amount, add to it over my lifetime, and give a final gift from my will," Mike says. "Churches need to have a method to replace your annual giving after you die, and an endowment will do that."
Setting up the endowment was easy. Once his desire was known, the Foundation handled the paperwork for him and guided him through the simple process of setting up a permanent fund. Also, it costs nothing, other than the initial deposit.
Now Mike, as well as any other person, can add to the endowment at any time. The principal will never be touched, and it will continue to grow. When Mike's life ends, it will pay income yearly to the beneficiaries he named, forever.
We all want to leave our mark on this world—to know that our lives mattered. Let us help you find the right vehicle to start building your legacy now.