Friday September 25, 2020
Washington News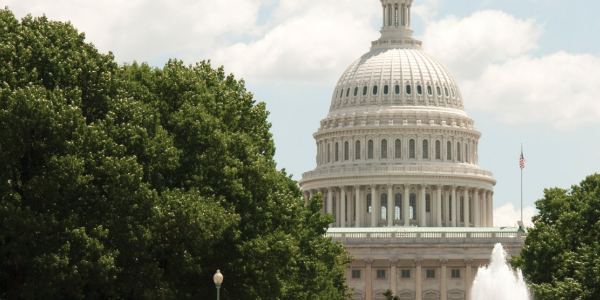 Benefits of Bunching Charitable Gifts
With the doubling of the standard deduction in 2018, the number of taxpayers who itemized deductions declined substantially. In 2017, nearly 30% of taxpayers itemized, but with the larger standard deductions, only about 10% of taxpayers will itemize this year.
The standard deductions in 2018 doubled to $24,000 for married couples and $12,000 for individuals. The married standard deductions increased to $24,400 in 2019 and $24,800 in 2020. Individual standard deductions are one-half the married number.
What tax planning strategy might benefit generous taxpayers who know there is a large standard deduction and still desire to help a favorite charity? Let's consider the options for two generous families – John and Mary Jones and Harry and Susan Green.
Both couples pay $8,000 in state and local taxes and $7,000 in home mortgage interest. They each give $8,000 to their favorite charity each year. Their total itemized deductions are $23,000 per year.
Because the standard deduction is larger than their $23,000 in itemized deductions, John and Mary take the $24,400 standard deduction in 2019 and $24,800 amount in 2020. Their total deductions over two years are $49,200.
Meanwhile, Harry and Susan decide to "bunch" their charitable deductions. They give $16,000 in 2019 and nothing in 2020. Because their 2019 itemized deductions of $31,000 are more than the standard deduction, they elect to itemize their deductions. In 2020, they take the standard deduction of $28,800. Their total deductions are $55,800.
Bunching Charitable Deductions
| | |
| --- | --- |
| Family | Deductions for 2019 and 2020 |
| Harry and Susan | $55,800 |
| John and Mary | $49,200 |
| Added Deduction | $6,600 |
By "bunching" their deductions, Harry and Susan increase their tax savings from their charitable gifts. The $6,600 increased deductions may save $1,848 in their 28% federal and state income tax brackets.
Editor's Note:
If your combined state and local tax, home mortgage interest and charitable gift deductions are close to the married or individual standard deductions, you may want to visit with a tax advisor about "bunching" your charitable gifts. Making larger charitable gifts every other year could be an excellent tax-saving strategy.
Eighty Conservation Easement Cases in Tax Court
In IR-2019-182, the Service announced a substantial increase in enforcement actions on syndicated conservation easements. This action is consistent with Notice 2017-10, 2017-4 IRB 544. In Notice 2017-10, the Service required syndicated conservation easements to be flagged as listed transactions.
IRS Chief Counsel Michael Desmond reports there are over 80 conservation easement cases in tax court.
The IRS announced, "Where it has not done so already, the IRS will soon be moving in the Tax Court to invalidate the claimed deductions in all cases where the transactions failed to comply with the basic requirements, leaving only the final penalty amount to be determined."
IRS Commissioner Charles Rettig stated, "We will not stop in our pursuit of everyone involved in the creation, marketing, promotion and wrongful acquisition of artificial, highly-inflated deductions based on these aggressive transactions. Every available enforcement option will be considered, including civil penalties and, where appropriate, criminal investigations that could lead to a criminal prosecution. Our innovation labs are continually developing new, more extensive enforcement tools that employ advanced techniques. If you engaged in any questionable syndicated conservation easement transaction, you should immediately consult an independent, competent tax advisor to consider your best available options."
There will be a coordinated effort of several IRS sections, with involvement by Douglas O'Donnell, Commissioner of the IRS Large Business and International Division.
O'Donnell explained his strategy and noted, "To the extent they are not, we have appropriate penalties to use to bring people into compliance." Because many of the charitable conservation easement cases involve valuation issues, he continued, "We found out that we did not necessarily have enough appraisers or valuation specialists, so we have gotten approval to contract for a significant number of outside experts to help us with this work."
Chief Counsel Desmond concluded, "A lot of the transactions we are seeing recently really seem quite divorced and have no connection at all to charitable intent in preserving land."
Editor's Note:
Conservation easements have been favored by Congress. The charitable deduction limit for appreciated property conservation gifts has been increased from 30% to 50%, and the carryforward period extended from 5 years to 15 years. Qualified farmers and ranchers can qualify for a 100% charitable deduction limit. However, some promoters of syndicated partnerships have promised investors extremely large deductions. Several conservation organizations welcome the IRS enforcement actions in the belief that this process will protect the long-term validity of the enhanced conservation easement deductions.
Foundations Unite on 1.39% Excise Tax
In a November 6 letter, the Alliance for Charitable Reform, Independent Sector, the Council on Foundations and other nonprofits presented a united front to Congress and requested a 1.39% excise tax on private foundation investment income.
Private foundations are generally subject to a 2% excise tax on net investment income (NII). If a private foundation meets certain distribution requirements, the tax is reduced to 1%.
Previously, many of these nonprofit organizations had supported a simplification of the private foundation excise tax by reducing it to 1%. However, the letter by the coalition of organizations notes, "We have worked on this issue for many years and strongly believe the two-tiered system is a hindrance to increased grantmaking. Since simplification of the tax is our premier objective as we approach any potential year-end tax changes, we have come together to support the revenue-neutral 1.39% rate and will remain in lock-step as a field as this legislation moves forward this year."
The nonprofits groups conclude, "As you decide on which tax provisions to include in disaster relief or any other legislative vehicle, we are united in asking you to include the simplified 1.39% rate."
Editor's Note:
The 1.39% rate will reduce the NII excise tax for most private foundations, but will increase the tax for those making larger distributions. The 1.39% rate specified in the Private Foundation Excise Tax Simplification Act (H.R. 4953) was chosen because it is revenue-neutral and therefore has greater likelihood of being included in a tax bill. The simplification is generally beneficial and will have no net impact on tax revenue.
Applicable Federal Rate of 2.0% for November -- Rev. Rul. 2019-25; 2019-45 IRB 1 (17 October 2018)
The IRS has announced the Applicable Federal Rate (AFR) for November of 2019. The AFR under Section 7520 for the month of November is 2.0%. The rates for October of 1.8% or September of 2.2% also may be used. The highest AFR is beneficial for charitable deductions of remainder interests. The lowest AFR is best for lead trusts and life estate reserved agreements. With a gift annuity, if the annuitant desires greater tax-free payments the lowest AFR is preferable. During 2019, pooled income funds in existence less than three tax years must use a 2.2% deemed rate of return.
Published November 15, 2019
Previous Articles
IRA and 401(k) Contributions in 2020
Timely Tips for End-of-Year Tax Planning
IRS Offers Online Safety Tips for Teens
National Work and Family Month - Military Family Benefits